Veganuary with sustainably Charlotte
2021 - The year for change
With a record 500,000+ people committed to Veganuary 2021, why not carry on eating plant-based for the rest of the year? We have a wide range of fantastic businesses that you can get your vegan ingredients from, including the likes of Harriet's of Hove and Hisbe!
We have teamed up with the amazing Sustainably Charlotte to showcase a few of her favourites you can make easily on a budget! Beware, it will make you hungry...
Pulled Jackfruit Tacos - serves two
First up is Jackfruit Tacos! I love cooking Mexican food at home as it is so easy to add lots of flavour to a dish and it is also really easy to make vegan versions of my favourite meals.
Ingredients:
1 Tin x Jackfruit | 1 Tin x Tomatoes | 1 x Red Onion | 1 x Pepper | Taco Shells / Wraps | 1 Tbsp Smoked Paprika | 1 Tsp Ground Cumin | Pinch of Salt | Pinch of Pepper | Pinch of Chilli Flakes
To Serve (Optional):
Lettuce | Avocado | Vegan Cheese
Steps:
Drain the Jackfruit and pull apart in a bowl then leave to the side.
In a pan fry off the onion and pepper in some oil.
Once softened add the jackfruit and the seasonings.
When the Jackfruit starts to get a bit crispy add the tin tom and reduce it down.
Put your taco shells into the oven to heat up / If you're using wraps, cut them into smaller circles, fold them over the bottom of the muffin tin and put into the oven to heat up into crispy taco bowls.
After 5 minutes in the oven get the taco shells/wraps out of the oven and serve up your Jackfruit mix.
Serve with your favourite toppings - I add some homemade guacamole, vegan cheese and some crispy lettuce.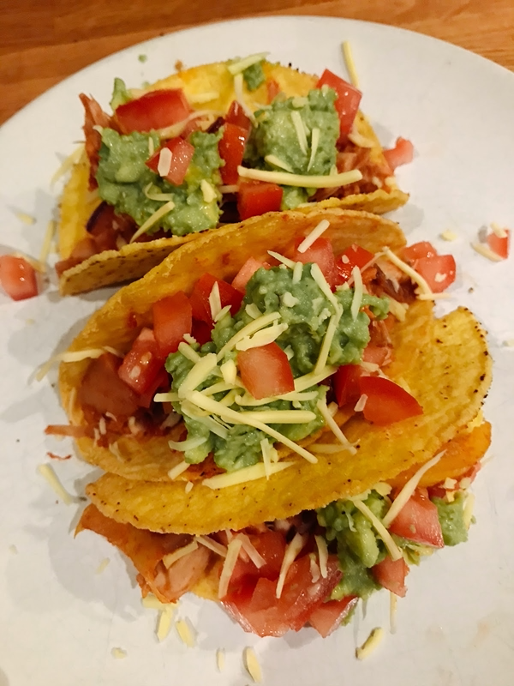 Miso Aubergine with Paprika Lentils - serves two
This next one seems super fancy but it is so easy and cheap. Also, as I am sure you will have found out people will always assume as a vegan you won't be getting much protein but the lentils in this dish are full of protein!
Ingredients:
1 x Large Aubergine | 1 Tbsp Miso Paste | 2 Tsp Sweet Chilli Sauce | 1 x Tin Green Lentils | 1 Tbsp Paprika
Steps:
Preheat your oven to 180C.
Slice your aubergine in half and in the flesh, score a criss-cross pattern.
Add a drizzle of olive oil and a pinch of salt and pepper and bake for about 20-25 minutes.
Whilst your aubergine is in the oven drain your green lentils and add them to a frying pan with a bit of butter on a low heat.
Add your paprika, 1 tsp of sweet chilli sauce and a little drizzle of water to the lentils. Then keep them warm on low heat, these are already pre-cooked so we are only warming them through.
In a little pot mix together the rest of your sweet chilli sauce and miso paste - this is your glaze for the aubergines.
When the aubergines are ready, take them out and brush on your miso glaze, then pop the aubergine sides under the grill, checking regularly, until crispy (this should take about 2-5 mins depending on the strength of your grill).
Then serve up! I serve it with some salad leaves and spring onion.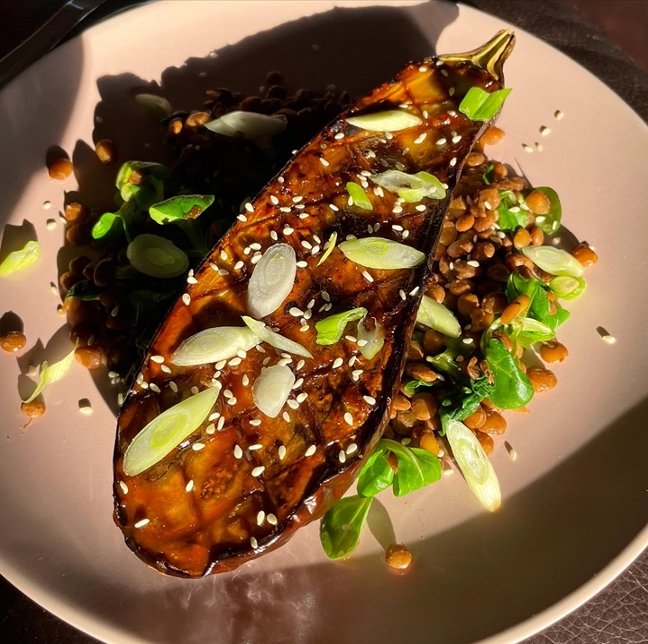 Loaded Chilli Fries - serves two
These Loaded Chilli Fries are great to share with some friends! I always change up the chilli recipe so once you've got this basic one down start to experiment with it!
Ingredients (for the fries):
2/3 Large Potatoes | 1/2 Tsp Smoked Paprika | 1/2 Tsp Cayenne Pepper | 1/2 Tsp Garlic Powder
Ingredients (for the chilli):
1 x Tin Green Lentils | 1 x Tin Tomatoes | 250g Mushrooms | 2 x Crushed Garlic Cloves | 1 x Onion | 1 x Chilli / Jalapeños | 1/2 Tsp Smoked Paprika | 1/2 Tsp Cayenne Pepper | 1/2 Tsp Garlic Powder | 1/2 Tsp Cumin Powder
To Serve (Optional):
Vegan Cheese | Sour Cream | Avocado
Steps:
Firstly, preheat your oven to 180C.
Wash and chop your potatoes into chunky chips.
Place the potatoes on a baking tray and drizzle with olive oil. Then season with smoked paprika, garlic powder, cayenne pepper and salt and pepper. Then bake in the oven until golden and crispy (35-40 mins depending on how chunky your chips are).
In a pot fry off your onion in a little bit of olive oil.
Dice up your mushrooms and add to the pot with the crushed garlic. After 2 minutes, add your tin tomatoes and spices.
Once the tomatoes have reduced and the sauce is looking a lot thicker add your green lentils and stir through.
Serve up your chips with the chilli on top and jalapeños. If you want to go a step further, I serve mine with vegan cheese, sour cream and guacamole.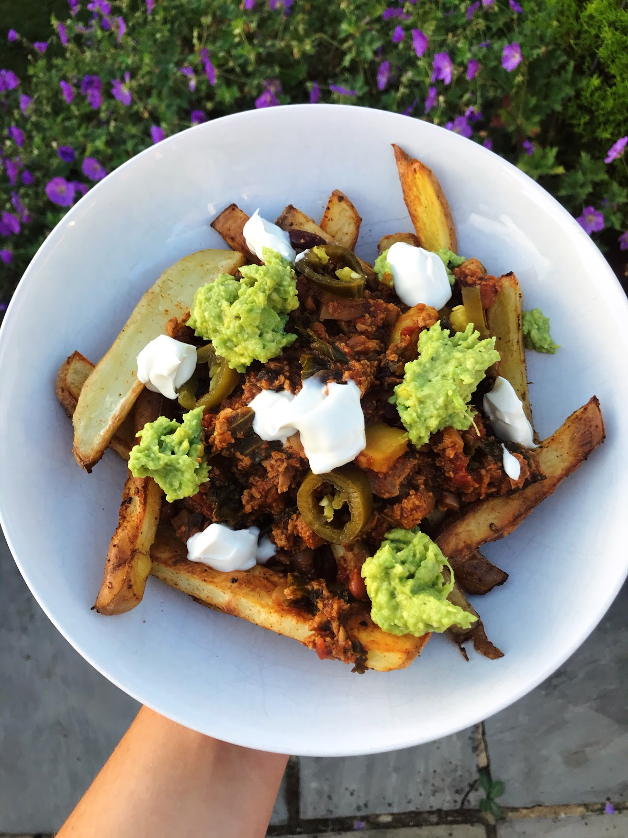 These recipes require minimal cooking skill, minimal effort but have loads of flavour and don't cost a lot! I'd love to know how you get on with them - tag me in your creations @sustainablycharlotte on Instagram x
Shop vegan and get rewarded for it