GET YOURSELF 10% OFF THE ENTIRE RANGE!
Who are we?
We were founded in 2011 by Jo-Anne Godden to provide a solution to the unsustainable fashion industry. We make gorgeous ethical and sustainable swim and activewear that empowers women through Micro Finance, elevating their status in communities where they often don't have a voice.
What do we sell?
We sell activewear for activists! Each garment is super soft, sustainable stretch fabric, vegan, durable and certified against chlorine, sunlight and saltwater. This means that you can jump straight from your home workout into the sea!
Why we are Ethicul?
Through the purchase of our activewear, you clean up the oceans and empower women entrepreneurs around the world. As the world's only not-for-profit swim and activewear brand, we are committed to a circular economy business model, encompassing a restorative approach in each step, We are a registered Community Interest Company and have integrated all of the 17 UN's Sustainable Development Goals into our business structure and operating methods.
Where can you find us?
When you buy our products, you are voting for a better world, you are driving social progress. Together, we keep our planet and its people healthy and happy. Head to the website and we'll make fashion a force for good: https://rubymoon.org.uk/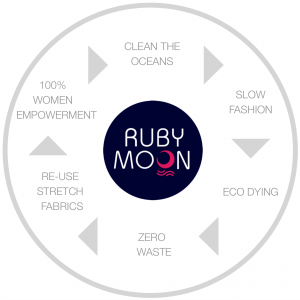 Clean oceans by using regenerated waste.
Slow design producing multifunctional activewear and swimwear.
Digital and certified printing methods to allow efficient use of ink and fabric.
Zero waste approach by using packaging or tags only when strictly necessary.
We re-claim used swimwear and other stretch fabrics to re-use. Help us close the loop and send us your unused stretch items
We convert net profits into business loans for disadvantaged female entrepreneurs.
Once the money is returned, we reinvest it in production so that we can keep our excellent standards and empower more women
Become a part of the RubyMoon journey!