CHECK OUT THE DELICIOUS TREATS TODAY!
Who are we?
The Lucky Cat Company was founded in Brighton by Aimee in 2018. We are a 100% vegan business specialising in Fudge and other sweet treats.
What do we sell?
We sell a selection of different flavoured fudge as well as millionaires shortbread, chocolate tiffin and raw cheesecakes. All our products are vegan, gluten free, palm oil and soya free and naturally sweetened with coconut sugar or maple syrup.
Why we are Ethicul?
All our packaging is 100 % biodegradable! This has perhaps been our biggest challenge. There are not many good alternatives to plastic at the moment. Shops require products to have a longish shelf life before they will stock them in order to avoid wastage. Aimee couldn't stand the idea that our company would be responsible for adding to the pandemic of plastic pollution so she spent many hours researching and experimenting! We hope our new packaging will keep the products fresh for long enough for them to be viable, whilst breaking down quickly one their job is done!
We are also adamant that no palm oil will ever enter our products. We hate palm oil and the destruction it's causing. There are alternatives but they cost a little more. We feel that cheap products, from clothes to food , often come with unjustifiable high cost to people, animals and the environment. We aren't the cheapest on the market. However, we hope our customers understand why and that if they choose to pay a few pence more (we understand this is not an option for everyone), then they do this with the knowledge that it won't contribute to the destruction of rain forests and the deaths of the beautiful orangutans!
We are far from perfect but we are constantly trying to make the most ethical choices. We want to make yummy vegan food that shows you don't need dairy or meat to have a treat, all the while doing as little harm to the planet and our fellow earthlings as possible.
Where can you find us?
You can find our products in many shops throughout Brighton and Sussex and some further afield. A full list of our stockist can be found on our website. You can also order online here.
Check out the full range of treats.
Vegan, free from palm oil as well as gluten. Delicious, guilt free and better for the planet!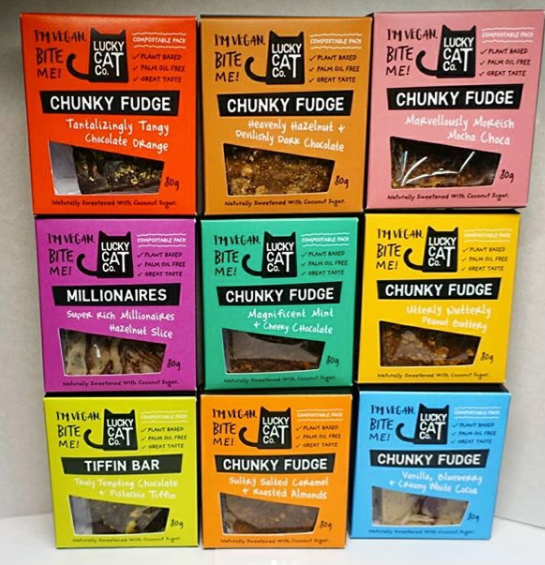 Vegan and refined sugar free fudge. Coming in six tasty flavours!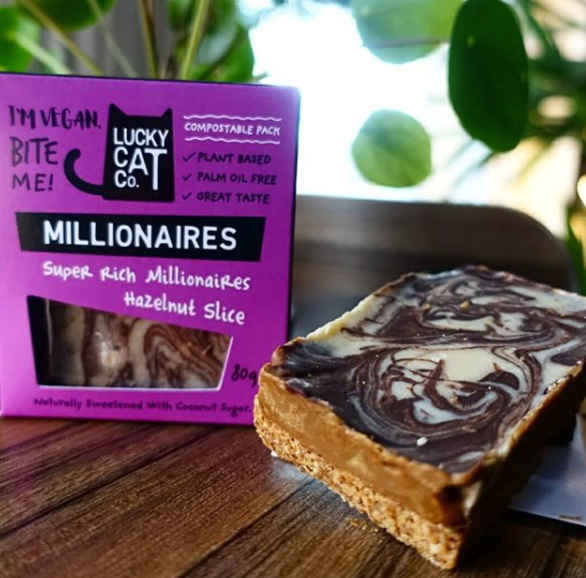 A selection of handmade vegan, refined sugar free sweet treats!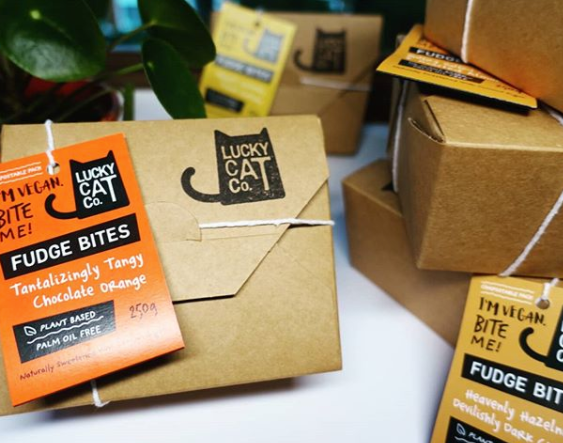 160g of vegan fudge presented in a cute gift box and hand wrapped with ribbon!
Get social with Lucky Cat Company!