The need for change in the fashion industry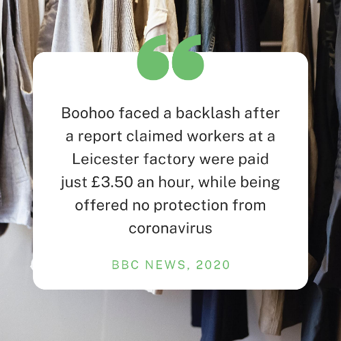 The fashion industry has to change. Not only for the sake of our planet, but also for the sake of our people. Getting paid under half of the minimum wage is not acceptable and having no respect for your worker's health is simply taking the mick! How long can these retail powerhouses carry on such unsustainable activities?

Luckily, we have partnered with the change-makers within the fashion industry that are here to do things the right way! Check out our partners here and switch your purchases from the likes of Boohoo and Pretty Little Thing and you will be rewarded for doing so. Together, we can drive this movement forward and change this industry for good. Are you in?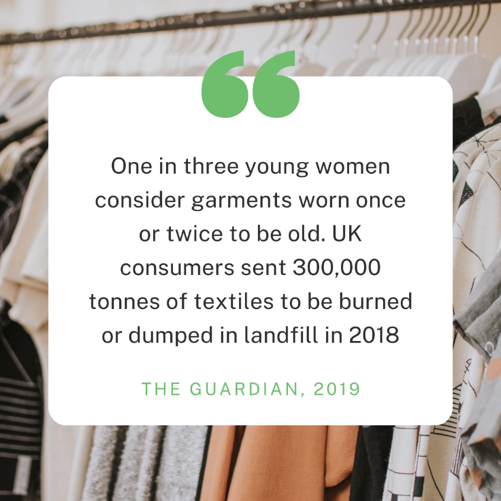 Watching the latest hit TV documentary, 'Inside Missguided' has really made us think about the societal norms regarding ethics and sustainability. Retail shopping within the online environment has never been perfect, yet this documentary has truly demonstrated what is wrong within the industry. Such as the extreme deadlines that are placed on factories "𝙝𝙤𝙬 𝙛𝙖𝙨𝙩 𝙘𝙤𝙪𝙡𝙙 𝙄 𝙜𝙚𝙩, 𝙡𝙞𝙠𝙚 𝙖 𝙩𝙝𝙤𝙪𝙨𝙖𝙣𝙙 𝙪𝙣𝙞𝙩𝙨 𝙤𝙛 𝙩𝙝𝙖𝙩?", "𝙞𝙨 𝙩𝙝𝙚𝙧𝙚 𝙖𝙣𝙮 𝙬𝙖𝙮 𝙬𝙚 𝙘𝙤𝙪𝙡𝙙 𝙜𝙚𝙩 𝙞𝙩 𝙖𝙣𝙮 𝙦𝙪𝙞𝙘𝙠𝙚𝙧?"
The ideals behind the normality of these statements shows the detached nature the head office has with the workers in the factories, this not only has negative implications to our planet, but also to the social wellbeing of the people that are placed under immense pressure for very little financial gain. A great summary of this is noted in The Guardian (2020) article, stating: 'is there any joy to be found watching women wearing bejewelled headbands haggling suppliers down from £7.50 to £7.40 a unit?'
There are also many independent designers in our very own communities that are negatively impacted with the workings of these powerhouses, as designs are consistently copied and manufactured at a fraction of the price which eliminates the competition. These designers still need to provide for their families. It is time for a change, let's purchase with a clear conscience and never look back. Here's to a more sustainable future.